We will be supporting the same two great local initiatives;
The Chelsea Community Christmas Lunch
Have you ever asked yourself what would Christmas be like if you were alone or if you could not afford to buy lunch for your family?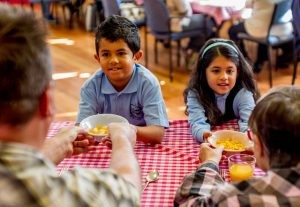 Three years ago, Vance and Vanessa's 5 and 6 year old asked if they could feed those in need on Christmas Day.
They asked around and couldn't find anything in their local suburb Chelsea; so they decided to start an initiative within their community.
Local community families in conjunction with St Joseph's Parish & School, Chelsea Community Church of Christ, Uniting Church of Australia (Chelsea) and St Vincent de Paul are joining together to run a Community Christmas Lunch on Christmas Day.
'The idea is to create a place of belonging where people who don't have anywhere to go or cannot afford a Christmas meal, can get together to enjoy a hot meal, dessert, music and most importantly a sense of community,' mum Vanessa Curry said.
'The lunch is about getting families together, encouraging a community spirit and reaching out to those who may be in need.' Vanessa explained. The volunteers would like the lunch to be a free event and need help to make that happen. They welcome anyone who would like to be personally involved in making this a fantastic community event.
If you cannot help in person but would still like to contribute, you can make a financial donation to help sponsor meals or a table. Volunteers are required for: Hall Decorations, Food Preparation, Shuttle Bus, Car Park Attendants, Food Waiting Staff, Drinks Waiting Staff, Welcome Team, Kid's Room, Wash up Crew.
Chelsea Community Support Services Inc
Chelsea Community Support Services is a not for profit organisation that assists people in the 3195, 3196 & 3197 postcodes.
All contributions they received help to service the elderly, families with children, homeless people and the disadvantaged groups.
For more information on their services
We have had a such a wonderful time collecting and donating the gifts last year.
We really appreciate the help of our community,
including the families of St Joseph's Primary School Chelsea, Playmates ELC in Aspendale Gardens,
Jeremy of The Cuppa Bloke, Ray White Chelsea staff, friends and locals that have been so generous.
We reached a massive 405 gifts which were donated to both the
The Chelsea Community Christmas Lunch and Chelsea Community Support Services.